When it comes to personal branding no-one has explained it better than Neil Patel "You don't want to build your personal brand to feed your ego. You want to build it, so you can get more opportunities. The bigger your brand, the easier it will be to make deals for your company and gain opportunities that you couldn't have before." (1)
Personal branding is about the whole identity, letting your target market audience know who you are and what you do. Not only will it show your work it helps build the trust factor. Content and consistency are also very important for your personal branding.
How to use social media for personal branding
In the Forbes online article by Sujan Patel(2) he lists 9 Ways to use Social Media to Build Your Personal Brand.
Find the Right Groups

Keep the Image Consistent

Engage Regularly

Diversify Your Content

Study Influencers

Give as Much as You Can

Ask Questions

Jump into Discussions

Monitor Your Name
Creating and maintaining your personal brand on social media isn't easy and can be time consuming, it will take time, research, constant monitoring and the right tools to ensure your brand consistency across all social media platforms.
Some examples of using social media for personal branding
Love or hate them there are many music, tv, political personalities and brand identities that have ensured their popularity with consistent social media presence.
Katy Perry has the top Twitter account with followers of 108,000,000.

Neil Patrick Harris' Google Search results are prominent with his Wikipedia profile, images, articles and social media links.

Brand recognition has long been one of Nike's fortes and with over 32,054,059 followers on Facebook Nike still have a large branding presence with modern fresh images.

Air BnB – are proving that they are a forerunner for branding with over 2 million hastags for #airbnb on instagram. Their followers are creating posts and providing interaction by use of the hashtag when on holidays.

LinkedIn Marketing Solutions have a large following on LinkedIn offering many valuable marketing solutions and posts.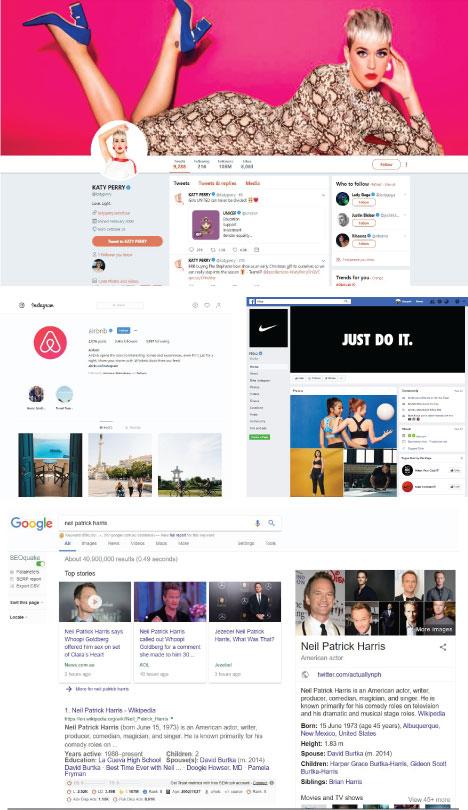 The Complete Guide to Building Your Personal Brand – Neil Patel - Quicksprout July 16 2014 [https://www.quicksprout.com/2014/07/16/the-complete-guide-to-building-your-personal-brand/]
9 Ways to Use Social Media to Build Your Personal Brand – Sujan Patel – Forbes Nov 12 2016 [https://www.forbes.com/sites/sujanpatel/2016/11/12/9-ways-to-use-social-media-to-build-your-personal-brand/#2056e7f83520]